Mardi Gras is a special time here in New Orleans, and here at what mommies need along with
the not so blog
, we have lined up an awesome giveaway just for our readers.
We love the Mardi Gras season and want to share some of the excitement with everyone!!
The earliest reference to Mardi Gras "Carnival" appears in a 1781 and by the late 1830s, New Orleans held street processions of maskers with carriages and horseback to celebrate Mardi Gras. The newspapers even began to announce Mardi Gras events in advance.
1872 was the year that a group of businessmen invented a King of Carnival -- Rex -- to parade in the first daytime parade. They introduced the Mardi Gras colors of purple, green and gold; the Mardi Gras song, and the Mardi Gras flag. Rex still rolls even today!!
In 1873, the first floats were constructed entirely in New Orleans instead of France. And in 1875, Governor Warmoth of Louisiana signs the "Mardi Gras Act" making it a legal holiday in Louisiana, which is still is.
So grab our Mardi Gras Mambo button, which was designed by Cat over at
3 kids and us,
and tune in starting Monday Feb. 9th to see what we have in store. Each day will represent a different Krewe and will include a brief description about them and a related giveaway to coincide.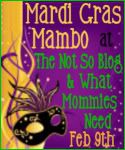 Since this giveaway will be dual hosted, you will be able to register here and at
the not so blog
, which will double your chances!!! That is almost as exciting as catching a pair of long beads.
For a sneak peek of what is in store, check out our sponsors!